What are littoral rainforests?
Littoral rainforests occur close to the coast on both the deep sand behind beaches as well as the more clayey soils on headlands. These rainforests are considered so important that all the remaining small pockets in New South Wales are recognized as an Endangered Ecological Community (EEC) under the Threatened Species Conservation Act 1995.
Most of these remnants are also covered by the 1988 State Environmental Planning Policy (SEPP) 26 – Littoral Rainforests. ccur close to the coast on both the deep sand behind beaches as well as the more clayey soils on headlands. These rainforests are considered so important that all the remaining small pockets in New South Wales are recognized as an Endangered Ecological Community (EEC) under the Threatened Species Conservation Act 1995. Most of these remnants are also covered by the 1988 State Environmental Planning Policy (SEPP) 26 – Littoral Rainforests.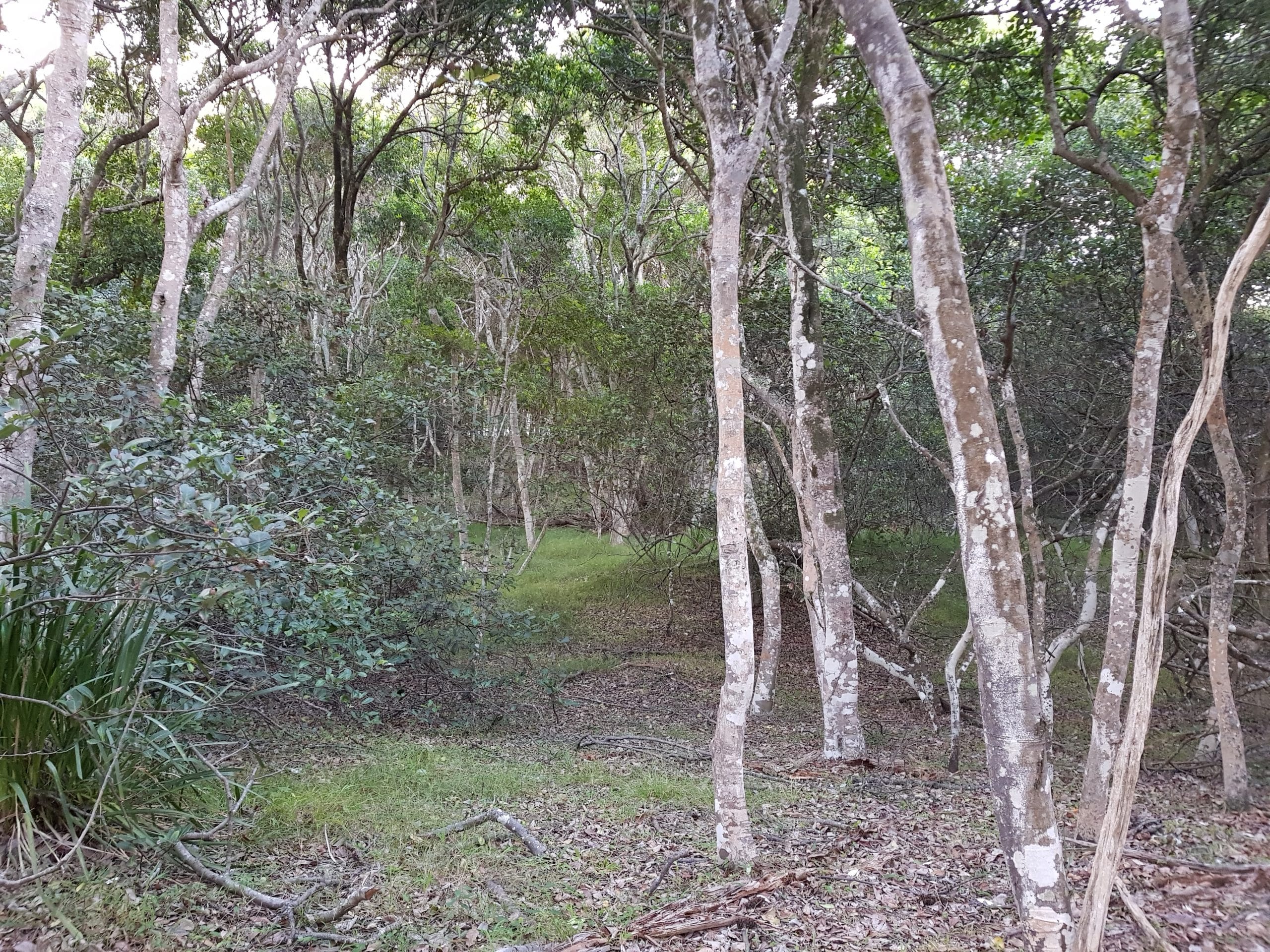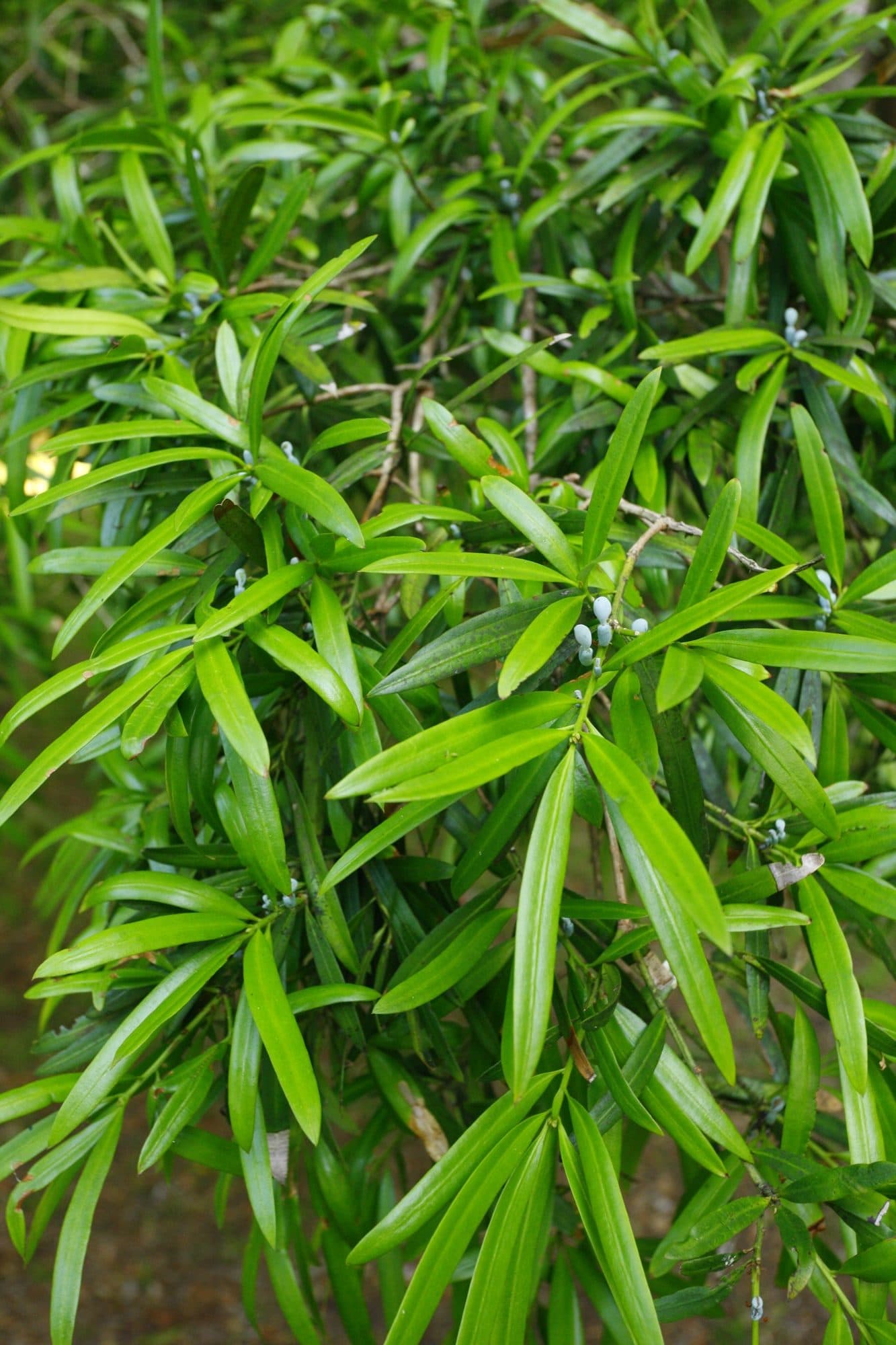 The remnants are usually small and narrow in width. They have suffered degradation from past clearing for buildings and sand mining and sometimes continue to be threatened, for example, because of the actions of people using the areas.  Littoral Rainforest remnants represent only 0.5 – 0.7 per cent, or approximately 1300 ha of the total remaining rainforest resource on the east coast.
Rainforests are 'closed forests', where 70% or more of the sky is obscured by tree leaves and limbs.  In littoral rainforest the canopy might be only a metre or two in height, so they vary from low thickets in wind exposed environments to tall forest in more protected sites. It is the sad case that the canopy of many of the remnant littoral rainforests have been compromised so there is no longer a 70% cover; and weed invasion can be a major problem. The rainforest flora still survives however and, while perhaps not immediately recognised by some as a rainforest, these degraded littoral rainforests are still listed as EECs and appropriate care should allow the canopy of these important areas to be restored over time.
The vegetation on the seaward side of a littoral rainforest is usually wind-pruned but this dense canopy provides protection for the less salt-tolerant species of the rainforest. Damage to vegetation on the seaward side of a littoral rainforest can have devastating effects on the rainforest.
Littoral rainforest vegetation is diverse and there are about 100 tree and shrub species can be found in Manning littoral rainforests. The species present depends on the soil (whether derives from beach sands or headland rocks), shelter, disturbance and so on.  For example, the headland clays at Red Head and Black Head support a different suite of species to the more recent Holocene sands of Harrington to Crowdy and Manning Point to Farquhar park. In general, littoral rainforest communities possess few epiphytes and ferns. The headland communities at Red Head are dominated by Brush Box (Lophostemon confertus) and Water Gum (Tristaniopsis laurina). These species are more commonly associated with waterways and the moist forest of the hinterland and ranges. At Red head they provide dense canopy cover in a very salt-exposed location.
Tuckeroo (Cupaniopsis anacardioides) is a common dominant species. In many cases, Coastal Banksia (Banksia integrifolia) (not normally associated with rainforest) occurs as an emergent above the littoral rainforest. More typical rainforest vegetation can develop under the shelter of the Banksia and over time the Banksias die out (unless there is, for example, a fire event, in which case the Banksias respond better after the fire and the cycle begins again).
Thus, while typical rainforest species with moist, evergreen, leathery leaves dominate littoral rainforest, scattered individuals of hard-leaved or sclerophyllous plants such as, Coastal Banksia, Smooth-barked Apple, Bangalay and Forest Red Gum may also be present.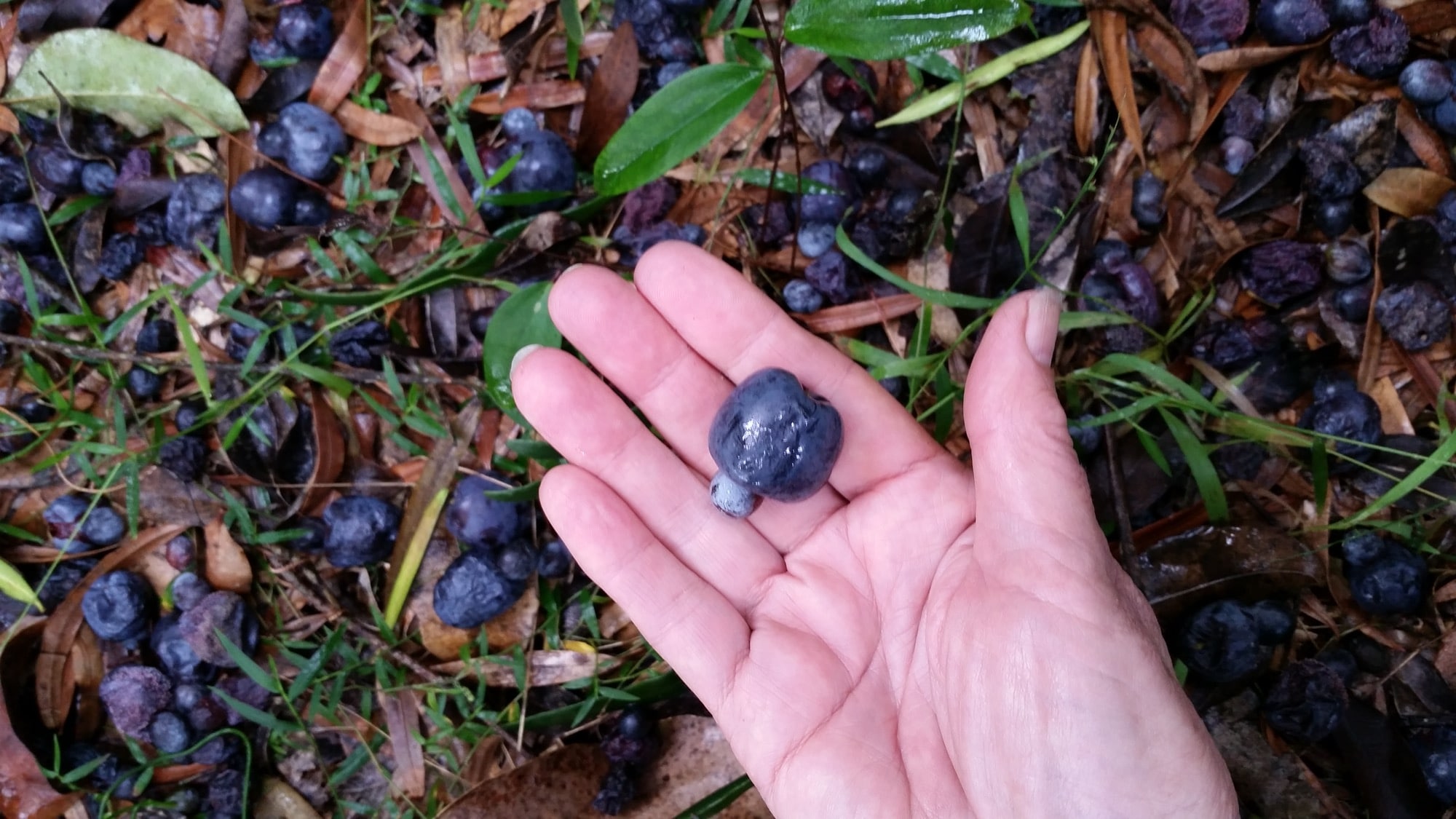 Plum Pine (Podocarpos elatus) is another common species and is dominant at Manning Point – its fruits commonly litter the ground in autumn and winter.
You may notice that several rainforest species have a common name which includes 'Brush' – this was the nineteenth century term for rainforest. 'Brush' Turkeys inhabit rainforest.
A number of species are shared by most of the littoral rainforest remnants in the Manning, but each strand is unique in terms of the particular plant species found.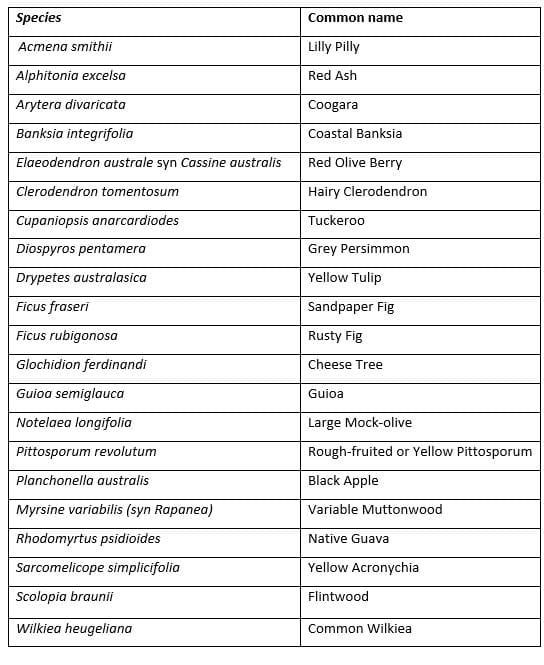 Plant species found
While many species are shared by a number of littoral rainforest sites on the Manning coast, each stand is unique in terms of the particular plants that grow there.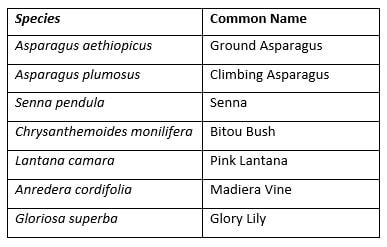 Regeneration of Littoral rainforest – some lessons to be learnt
Where littoral rainforest occurs right on the coast, winds can affect the rainforest so regenerating rainforest plants need protection from this wind. Sometimes the height of the canopy on the windward side might be only a metre or two.
If weed plants like Bitou Bush occur at the leading edge of the leading rainforest they can be providing protection for the rainforest species. If the Bitou Bush is removed, this action can destroy the rainforest canopy for many metres. The consequences of weed removal should always be considered before weeds are removed.
Similarly, native vines at the leading edge of the rainforest may grow rampantly and smother the canopy. Native vines in this location may therefore be problematic and some removal could be considered. In other situations, for example a vine covering a dead or dying tree, the vine will provide shade for new rainforests seedlings to grow and thrive.
People walking through the bush/littoral rainforest can also cause damage to regenerating plants so fencing of fragile areas may be needed to keep people out.
It can be advantageous to plant on the leading edge of a disturbed littoral rainforest but shouldn't be necessary where natural regeneration can occur.
1. The Gap, Crowdy Bay National Park 
There is a narrow band of littoral rainforest behind the dunes at Crowdy Gap, in the National Park.  Apart from a very small section accessed by the walking track the camping area to the beach, it is difficult to access. The mown track is mainly through native forest consisting of Coastal Banksia, Breynia, Lilly Pilly, Red Ash and Wattle, but as the track starts to rise just before the beach area, you will see a very narrow band of Tuckeroos. Coastal Banksia may emerge above from the canopy. The littoral rainforest canopy ranges in height from about 1 to 5 metres and there is obvious wind pruning. Not so obvious because of lack of access, are other littoral rainforest species which occur such as Large Mock-Olive, Lilly Pilly, Native Guava,  Beach Bird's Eye Alectryon coriaceus and  Beach Acronychia Acronychia  imperforata. Vines such as Kangaroo vine and Water Vine are common.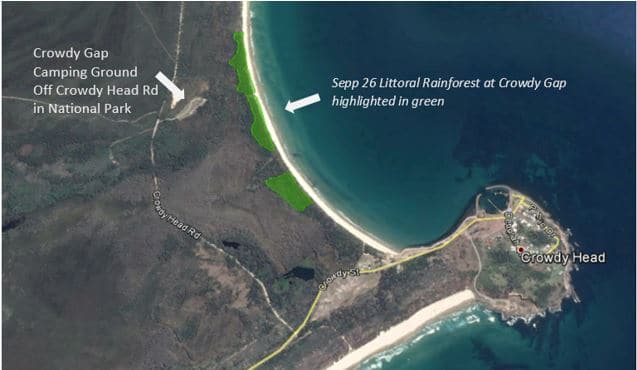 2. Crowdy Head
Littoral rainforest once covered much of Crowdy Headland but it now is confined to a couple of small patches, none of which are listed under SEPP 26 (possibly because Crowdy Head was not shown on the aerial photographs used for the mapping). Some 46 species of native trees and shrubs have been recorded here. Since Crowdy Head is an outcrop of Carboniferous lithic sandstone, siltstone, tuff, shale and limestone, the species found are a little different to those found on deep sands behind beaches.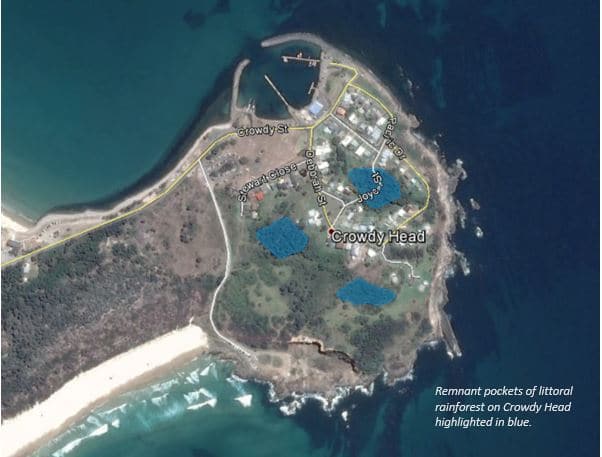 None of the remnants are easy to access and they are weed invested, particularly on the margins. In the exposed areas to the south, the canopy is less than 1.5m high. The dominant species in the southern section are Lilly Pilly,  Coogara, Tuckeroo and Cheese Tree.  In the more northern gully area surrounded by housing, the littoral rainforest is also degraded but more protected, so the canopy is taller and Coastal Banksias emerge above the canopy. This more northern section of littoral rainforest suffers from mowing and other degradation because of the surrounding residential area but the potential exists in both remnants for replanting and regeneration.
Of note is Rose Satinash which is only recorded on this one site of the Manning littoral rainforests. The Yellow Pear-fruit, Hard Corkwood and Brush Cherry are also of interest since they have to date only been found in the Manning littoral rainforests at Crowdy Head and at Harrington.  Four species of Fig are found. It is not clear whether the Bangalow Palms found here are naturally occurring or planted. Native vines include Lawyer Vine (Smilax australis), White Supplejack (Ripogonum album) and Water Vine (Cissus hypoglauca).
3. Harrington
Prior to sand-mining for Rutile in the early 1970s, there was a virtually continuous strip of Tuckeroo dominant littoral rainforest from Crowdy Head to Harrington. A few remnants remain but the most southerly one, just north of the caravan park, is in excellent condition and is easily accessed via the walking track which links the road with the lagoon. This area of Crown land was reserved for graves and hence was saved from the sand-mining. Check out our resources page for more info on walks and plant species!
This is the best example of littoral rainforest on the northern Manning coast. Some 67 species of trees and shrubs have been found there as well as numerous other species. Coastal Banksia emerge from the canopy which is dominated by Tuckeroo and Small-leaved Fig. Other common canopy trees are Hard Corkwood, Silver Basswood or Celery Wood, Brush Bloodwood, Deciduous Fig, Strangler Fig and Sandpaper Fig. Small trees common in the understory are Cheese Tree, Plum Pine, Brush Kurrajong and Black Apple. Of note is the occurrence of the Blush Walnut (Beilschmiedia obtusifolia) which has been found here and is the known southern limit of this species. Vines such as Smilax and White Supplejack are common.
Restoration activities by Manning Coastcare Group over the last 20 years have resulted in good canopy development and recruitment of replacement canopy through regeneration of seedlings.  This site is particularly vulnerable to weed invasion and disturbance because of its proximity to the township.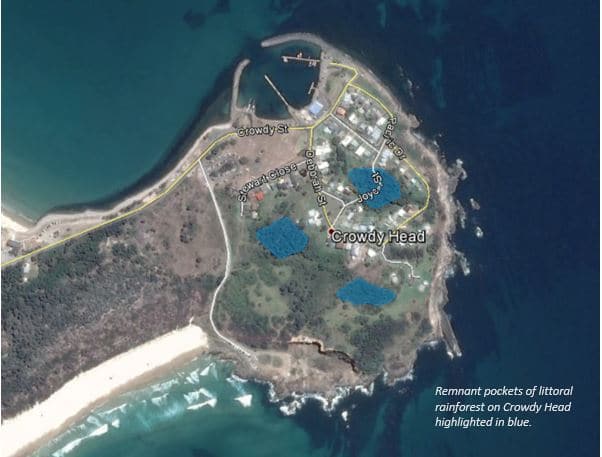 4. Manning Point
The Manning Point rainforest occurs on a sand base and extends north and south-east of the picnic area adjoining the village. The rainforest is floristically similar to the littoral rainforest located at Harrington and north to Crowdy Head. The dominant canopy tree found is Tuckeroo. Plum Pine is a prominent species with tree locations marked in autumn and winter by the distinctive fruit fall. Some 33 tree and shrub species have been identified here.
The littoral rainforest here varies in quality and is interspersed with more open sand-dune vegetation. While mostly degraded, there is a reasonable canopy structure and weed control efforts over 20 years by Manning Coastcare Group have assisted in regaining the health of this area. The area was subject to dune restoration work in the 1980s by the then Soil Conservation Service and there has been extensive control of Bitou Bush by Manning Coastcare during the early 2000s.  Weed control of Ground Asparagus is an ongoing concern.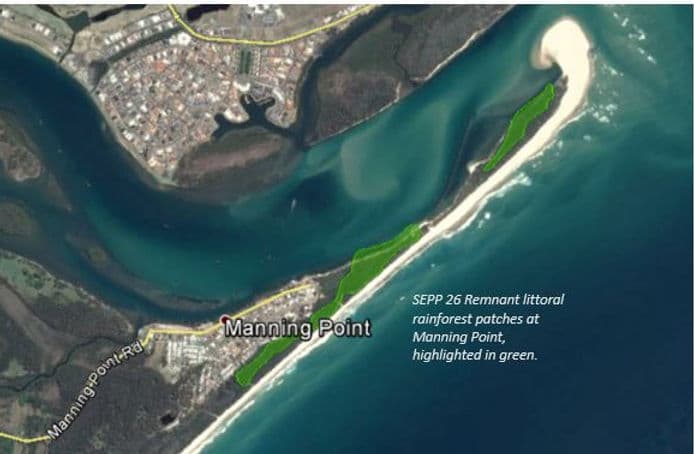 Very small patches of regenerating rainforest, which have been fenced off in the picnic ground, give an indication of the vegetation that would once have covered the whole area. These isolated clusters of trees within a mown grass understorey do not allow the area to regenerate. However the resulting regrowth of native vegetation from seed and rootstock in these protected areas is very encouraging. While the needs of visitors need to be met, additional fenced areas are required to allow regeneration and replacement tree cover to develop. The installation by Council in about 2002 of this fencing and bollards to limit mowing was an initiative of Manning Coastcare as part of 'Shade for our Future'.  
The sand spit forming the narrow finger to the north, into the mouth of the Manning River, is vulnerable to impacts from coastal erosion and flooding processes. Beach erosion since 2012 has impacted severely on all vegetation on the seaward side of the spit with at least 10-20 metres being eroded in the 5 years from 2012 to 2017. The rainforest which was limited to a narrow band in the lee of the high beach dune is now suffering significant erosion and exposure to salt spray, making the littoral rainforest here very vulnerable and reduced in extent. 
There are no formalised walking tracks through this rainforest. Walking access to the spit is by the beach from the 4-wheel drive access point. The walking route along the sandy shore of the river mouth is dependent on the tides.
5. Farquhar Inlet
There is no road access to Farquhar Inlet and the 4WD vehicular access along the beach is often closed. Thus, the littoral rainforest at Farquhar Inlet is often only accessible by boat at high tide. Care should be taken that you are not stranded. There is a camping area at Farquhar Park which is managed by nSW Department of Industry – Lands
Some 31 species of trees and shrubs have been identified here.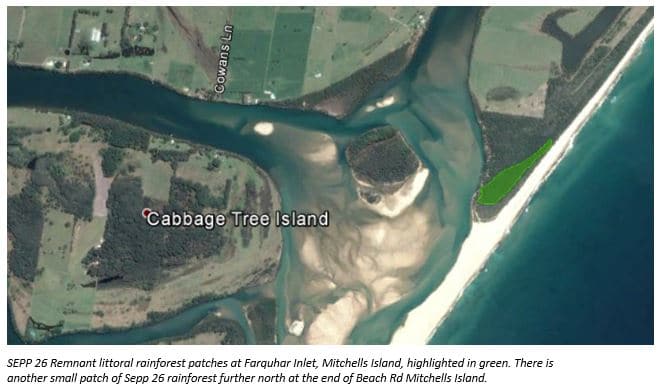 6. Old Bar
There is a patch of littoral rainforest at Mudbishops and another near Beach Street but there are other smaller areas between these two remnants, and continuing to Wallabi Point. This littoral rainforest is generally dominated by Tuckeroo but some 50 species of trees and shrubs have been identified in the area.
Old Bar beach faces a significant erosion threat which has meant the loss of the foredunes. The hind dune is now very vulnerable to erosion and, if the dune is lost, it is only a matter of time before the rainforest is also lost (since rainforest vegetation is generally not tolerant of salt spray).
There is a short access track to the beach near Old Bar Public School and the regenerating littoral rainforest can be seen here. Manning Coastcare Group volunteers are actively weeding this area and allowing natural revegetation to take place.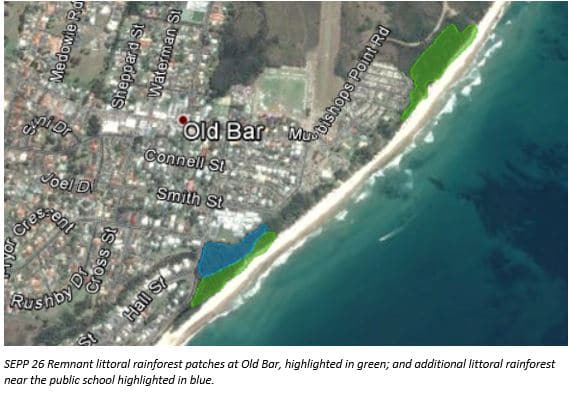 7. Saltwater
There is a very narrow strip of SEPP 26  littoral rainforest between the beach and the camping area in the National Park. Isolated trees in the recreation area and along Khappinghat estuary are a reminder of the original much larger rainforest area which existed prior to the 1970s when the camping area was cleared. What is left is very degraded and the canopy is open. The section of SEPP 26  littoral rainforest further up Khappinghat Creek is more difficult to access and therefore less degraded. Manning Coastcare Group was involved in the early 2000s in protecting small areas of vegetation in the popular picnic area so the rainforest canopy was not completely lost.
Some 39 rainforest tree and shrub species have been recorded here. The better developed core areas of littoral rainforest are dominated by Lilly Pilly, Red Olive Berry, Brush Muttonwood and Native Guava. On the edges, littoral rainforest has developed in association with Coastal Banksia, Swamp Oak  and Broad-leaved Paperbark. Some sections of the canopy are formed exclusively by Lilly Pilly, Broad-leaved Paperbark, Red Olive Berry, or Brush Muttonwood. The species Goodia lotifolia (Golden-tip) has to date only been identified in this littoral rainforest in the Manning.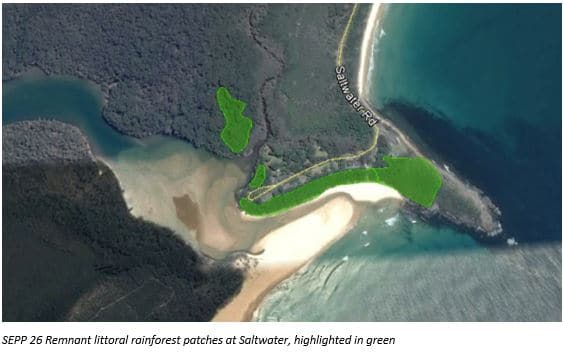 8. Diamond Beach and Red Head
The littoral rainforest on Red Head headland and behind Diamond Beach and Red Head Beach is floristically diverse with at least 61 species of rainforest trees and shrubs having been recorded. Abundant species found include Common Acronychia, Large Mock-olive, Black Apple, Flintwood,  Veiny Wilkiea,  Forest Maple and Brushbox.
Unlike the sandy hind-dunes, the rainforest on the headland has developed on Upper Devonian – Lower Carboniferous mudstones and tuffs.
Most of the remnant is subtropical rainforest but there is also a patch of dry rainforest which has species such as Native holly, Brush Caperberry, Silver Croton and two-leaved Tuckeroo.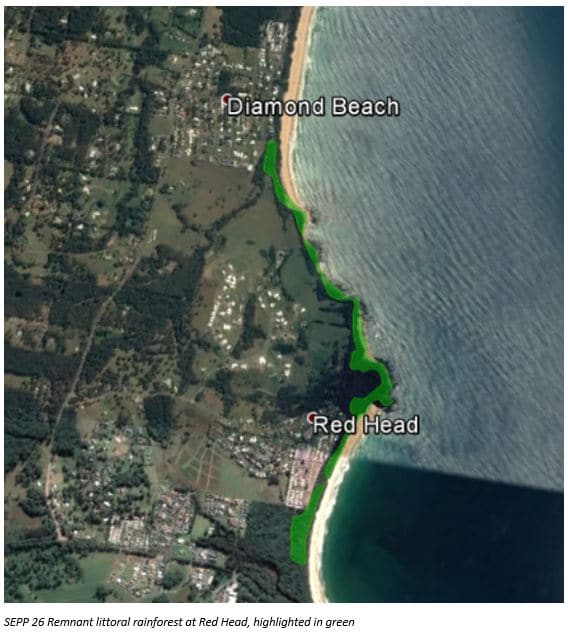 9. Black Head
At Black Head the littoral rainforest is found both sides of the access road to Pebbly Beach and Nine Mile Beach. Similar to the headland at Red head, the littoral rainforest has developed on Upper Devonian – Lower carboniferous mudstones and tuffs.
The species diversity of the littoral rainforest at Black Head is the best on the Manning Coast. Some 76 species of trees and shrubs have been found. The canopy is dominated by Brushbox (unlike most littoral rainforest on the Manning coast which is dominated by Tuckeroo). The wind-pruned understorey is dominated by Scentless Rosewood.
Most of the littoral rainforest on the Manning coast is subtropical rainforest but at Black Head there is also dry littoral rainforest to the west of the beach access road. This dry rainforest is dominated by large Shatterwood trees and it is very unusual to find this species in a coastal environment. Other species found in the dry rainforest are Native Holly, Native Pomegranate, Red Kamala, Silver Croton and Two-leafed Tuckeroo.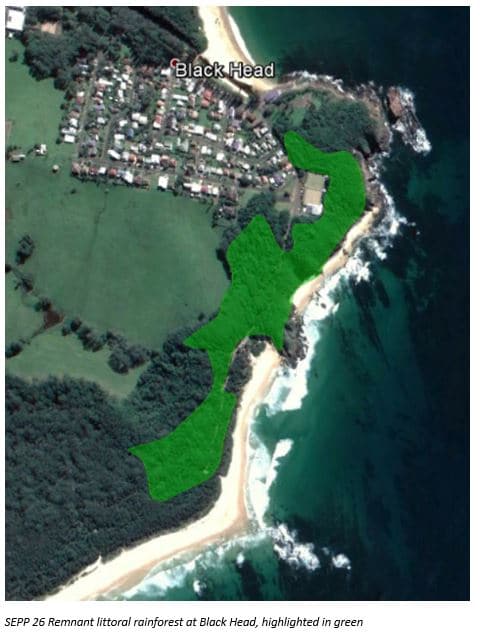 The information provided here is based on site investigations as well as the work of:
* G Williams and P Adams, 1991, 'Rainforest Remnants on Headlands in the Manning Valley: Their Composition and Conservation Status', in Wetlands (Australia) 11, pp 21-29;
*the work of Alexander Floyd, 1990, Australian Rainforests in New South Wales (including microfiche), and
* weed surveys undertaken by Manning Coastcare Group in 1998 and 2009.
Information compiled by Pieta Laing and Daintry Gerrand.