2021 Mid Coast Regional Landcare Awards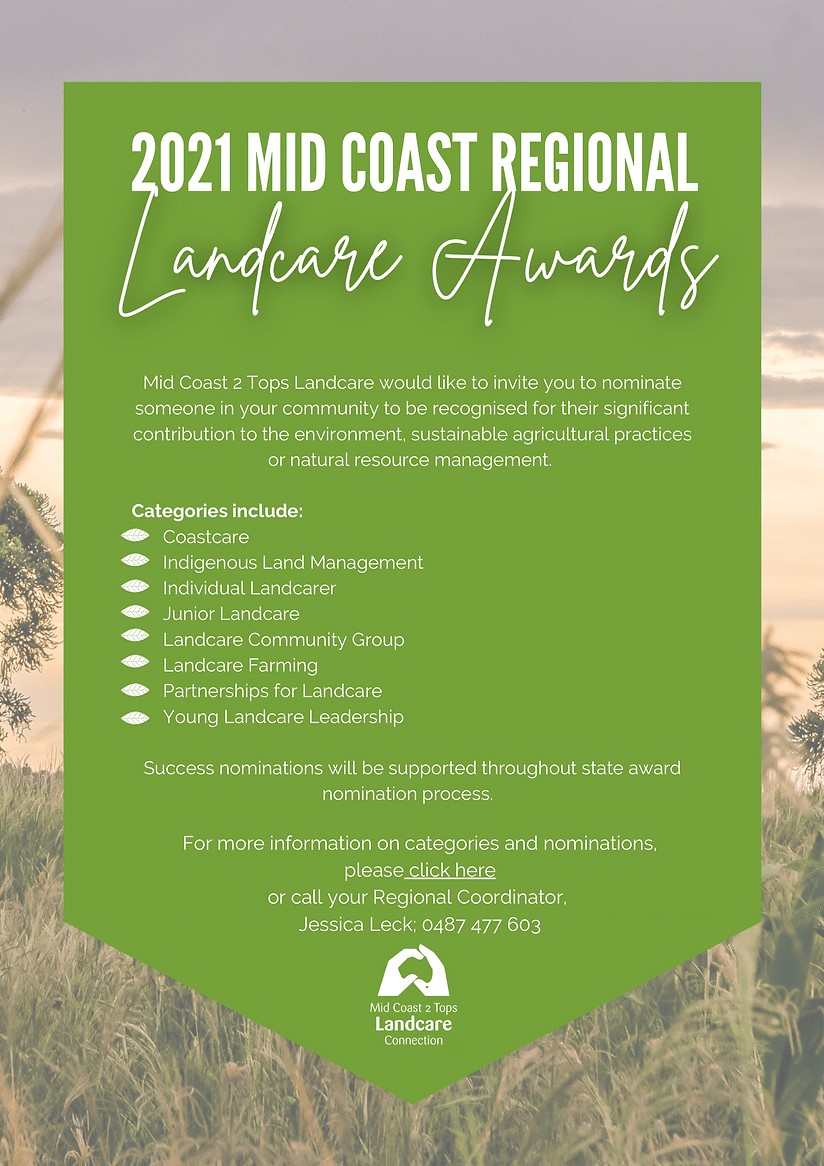 NOMINATIONS EXTENDED UNTIL 28TH of MARCH
Mid Coast 2 Tops Landcare Connection, on behalf of our local networks, would like to invite you to nominate yourself, or someone from your community, for our 2021 Regional Landcare Awards. This is our opportunity to recognise the significant contribution they have made to natural resource management, sustainable agricultural practice or environmental awareness within our region.
Category Criteria
There are a number of categories a person or group may be nominated under. See below for descriptions of each category, or see here for a word document of selection criteria questions for each category. 
Coastcare Award
The Coastcare Award acknowledges a community group or network that has contributed to the significant improvement of a coastal or marine environment. This may include estuaries, coastal and marine wetlands, river systems and salt marsh ecosystems. The Coastcare activities may include sand dune restoration, protection of threatened species, removing invasive species that are impacting on native flora, plastics and waste removal, education and volunteer engagement, and mitigating urban impact on marine environments like stormwater pollution or the control of access to sensitive and vulnerable areas. Nominations are open to a community group or network, including Coastcare and Landcare groups/networks, Dunecare, Rivercare, Bushcare, 'Friends of' groups, youth groups and other community groups responding to local environmental issues.​
Indigenous Land Management Award
The Indigenous Land Management Award acknowledges an outstanding Indigenous community group or individual that is working towards improving land use and/or enhancing or protecting an area on behalf of the community. Nominations are open to an individual and/or Indigenous community groups.
Individual Landcarer Award
The Australian Government Individual Landcarer Award acknowledges the significant contribution made by an individual who has demonstrated outstanding leadership and commitment to landcare. There are many people who, through their actions, have had a positive impact on improving land management practices through practical on-ground activities, and/or by creating awareness of landcare in their local community. Nominations are open to an individual who may be a farmer, landowner, Landcare facilitator or coordinator, Traditional Owner, teacher, or a volunteer from or member of a Landcare group/network or any other environmental care group.
Junior Landcare Team Award
The Junior Landcare Team Award acknowledges a school, youth organisation or young community landcare team that contributes to raising awareness, sharing knowledge and promoting participation of landcare amongst young people. The award recognises Junior Landcare teams who implement landcare practices within the local community or school. Nominations are open to young people aged 18 or under, eligible groups include primary schools, secondary schools, Scouts, Girl Guides, youth organisations or young community landcare teams.​
Landcare Community Group Award
The Community Group Award acknowledges an outstanding community group that is improving sustainable land use and/or is undertaking on-ground action to protect, enhance or restore the natural values of an area on behalf of the wider community. Nominations are open to a group only. This includes environmental community groups that include Landcare groups, youth groups, Coastcare, Dunecare, Rivercare, Bushcare, 'Friends of' groups, youth groups and other environmental community groups.
Landcare Farming Award
The Australian Government Landcare Farming Award acknowledges an individual, group, network or organisation that has demonstrated excellence and leadership in implementing sustainable and integrated land management practices on a farm property, or properties, that protect soils, water, vegetation and biodiversity. The award also recognises practices that deliver improved natural resource management and farm productivity outcomes. Nominations are open to farmers, Landcare groups/networks, farming systems groups, primary producers and/or farming enterprises.​
Partnerships for Landcare Award
The Australian Government Partnerships for Landcare Award acknowledges a partnership of individuals, groups, networks, or organisations that has demonstrated leadership and achievement in landcare-related activities as a result of the partnership. Nominations are open to partnerships that include Landcare groups/networks groups, natural resource management regional organisations, other government agencies, research organisations, local government, environmental groups, farmers, landowners, community groups, schools and youth groups.
Young Landcare Leadership Award
​
The Young Landcare Leadership Award acknowledges an individual or a youth group* between the ages of 15 – 35 years who promote excellence in Landcare through on-ground projects and/or awareness-raising activities. Nominations are open to an individual or youth group who can demonstrate their capacity to lead and encourage the wider community to engage and participate in managing the environment and natural resources in their local area.
Nominations
To make a nomination, please fill in the nomination form below. A copy of the selection criteria questions can be downloaded from the categories section above. All groups and individuals across the NRM spectrum are qualified to be nominated, regardless of previous engagement with Landcare networks.​
Nominations will close on the 28th of March, to allow judging prior to our Regional Awards Ceremony in May. This event will be an opportunity to both recognise our champions but also highlight all projects, individuals and groups driving change in our region. 
Successful nominations will be assisted to refine nominations, and supported throughout the Landcare NSW State Awards nominations process. 
There are no upcoming events at this time.